Hi everyone! Before I talk about today's post I just want to say thank you all so much for following me and for all of your lovely comments! Every time I see I've got one more follower I just feel so humbled and blessed that you would all take the time to talk to me and that you're actually interested in what I have to offer! I know you always see bloggers saying this and it's usually when they hit their 100 follower mark or bigger but I never thought that I'd have many followers. I started blogging as a creative outlet because I wanted to share my passions with whoever wanted to take a look. You guys really don't know how much I appreciate you and how much it means to me when you comment on my posts! I hope you'll stay with me through my blogging journey and as always if you ever just want to chat or ask a question there's multiple spots to do that, I have my email icon (top right column), my "Submit Your Hair and Nails" tab, my
twitter account,
and if you don't feel like using the email button simply copy my email, xoxoalexisleightheblog(at)gmail(dot)com into your email.
Okay, enough of the teary thank yous. Sorry for blabbing in your post, Emma! As I've mentioned, I just love collaborations! I love everything about them; getting to know other bloggers, seeing what they come up with, and of course learning what you guys think about it! Today I have another lovely lady, this time from
Globe & Nail
. Emma is a younger blogger, like me. She has the prettiest nails (I'm growing more and more fond for nubs! Even I'm sporting them now, by choice! Shocking, I know.) and her nail art is just so beautiful. Even more important she's very sweet! So, onto the lovely tutorial she created just for us, YAY!
Hello! First off I'd like to say a huge thank you to the lovely Alexis for asking me to be a guest on her blog. This is my first guest post and I'm very excited! :)
I've made a tutorial for a cute spring manicure, though you could always switch up the colours and use brights or neons for a more summery look.

The polishes I used are Sally Hansen Xtreme Wear Lacey Lilac, NXY Matte Teal, Sally Hansen Xtreme Wear Mint Sorbet, and OPI Mod About You. You'll also need a make-up sponge cut into four pieces and a Konad stamping set, I used plate m73.
Start off by painting each nail a different colour. You could use six colours and have each finger different, but to keep it simple I did my thumb and pinky the same. In the picture below, I'm wearing one coat each of the blue and pink, and two coats each of the green and purple.
Time to jump on the gradient bandwagon! Take one of the small pieces of your make-up sponge, and paint on stripes of the colours you are going to use. Dab it once or twice onto a spare sheet of paper to blend the colours together and remove excess polish.
Next, dab it onto your nail in small circular motions to blend the colours onto the nail. If you want the colour more opaque near the tip of the nail, you can paint more on the sponge and go over it again.
As long as you don't wait too long between, you can use the same sponge for a few nails if you're using the same colours.
Repeat the sponging on the remaining nails with the other colours.
Feel free to mix and match the colours on each nail. They can all be different!
Once you're finished with the sponging, you'll want to put on a quick-dry top coat if you're impatient like myself.
I put on one coat of Seche Vite, and you'll see that with the top coat the gradient blends together much more smoothly.
Make sure the polish is completely dry so you don't risk messing it up. I may or may not have ruined manicures this way with my first forays into stamping.
Stamp on any full-nail image with white polish. I used the flowery pattern from Konad plate m73, but any image that is sparse enough to let the gradient show through would work.
Here I'm holding Sally Hansen Xtreme Wear White On, but I stamped the images with Konad special polish in White. I use the White On to stamp images on my right hand that nobody sees. It works but doesn't pop quite as much as the Konad polish.
This one gets quite messy, so you'll need to clean up around the edges. First use a q-tip dipped in normal nail polish remover to get off the excess stamping and sponged polish, and then use a small make-up brush dipped in pure acetone to clean up the line around the cuticle.
Wait a few minutes so as not to streak the image, and then top coat. I find that Seche Vite tends to drag the design, so I used one coat of Sally Hansen Xtreme Wear Invisible and followed that a few minutes later with a coat of Seche Vite.
There you have it, a cute spring manicure that can easily be switched to summer. I'll have a condensed tutorial of this posted on my own blog soon.
Thank you so much Alexis for having me on your blog; it has been a great experience and I hope we get to collaborate again in the future! :)
Isn't she so sweet?!? Thank you soooooo much Emma, your mani is so gorgeous and right on point with the gradient trend! I especially love the variety of pastels, you didn't just stick to two colors you included a few, so pretty! If you still haven't checked out the lovely Emma's blog, get on that right this minute! You can click on the link here,
Globe & Nail
or click on her latest post! Oh, and I'd absolutely love to collaborate with you again, Emma; this was so fun! :)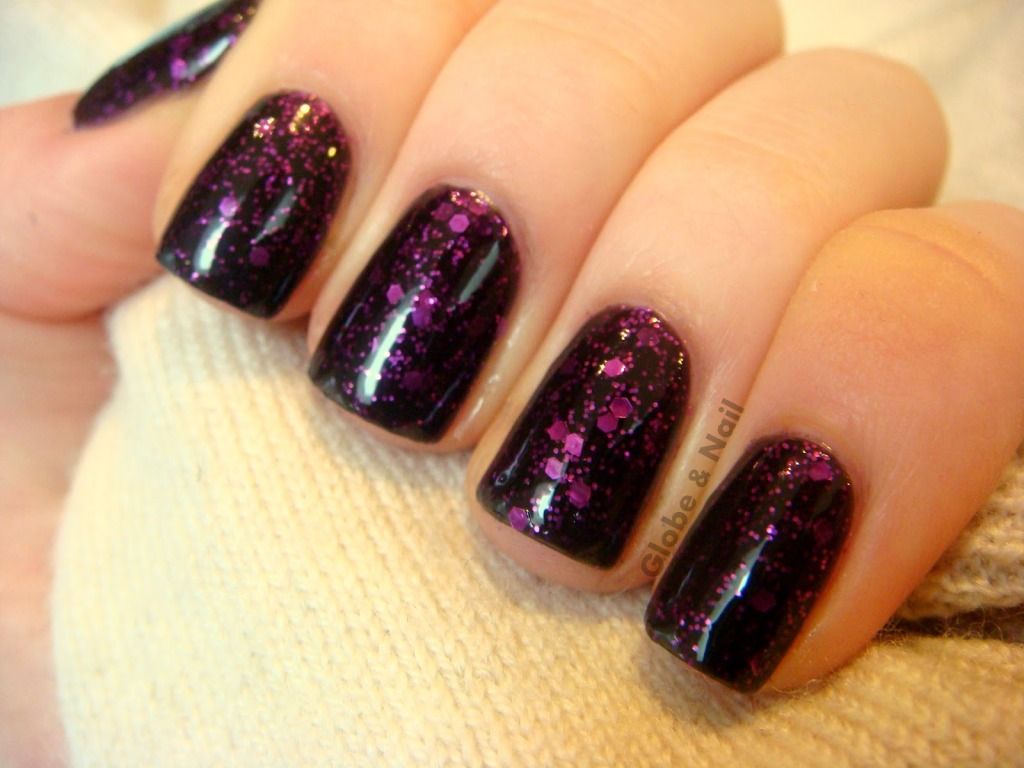 - xoxo Alexis Leigh